Wednesday April 13

Andra and I wake up around the same moment at 7:45. We dress in the cool, damp morning air and eat breakfast of egg and cheese burritos. It is my first experience with powdered eggs and the event goes well. At 9 we are on the trail, heading downstream. Several water crossings later, Andra feels the effects of her cold, and decides to return to camp. At 10, we split, and I continue downstream.
The day quickly turns warm. The sky is unbroken blue. Iíve worn my sneakers today and walk right through the ankle-deep water at all crossings. This speeds the trip immensely. I come upon Cliff Arch, a very handsome arch. Shortly beyond, I explore and photograph a very dark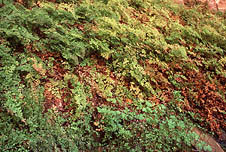 alcove with elaborate hanging gardens. Maidenhair fern cascades from the tilted ceiling, and I envy the lushness of the fern garden that Iíve never been able to recreate at home. My potted maidenhair ferns seem to recognize that my sun room is not where they should be. The canyon walls grow deeper as I press on to a waterfall, and a stretch shortly after which proves tricky to negotiate. At first I notice on the right bank there is a way to slide down a sandstone cliff to the creekbed, and perhaps a way to climb back up the cliff using small notches carved in the rock. I debate this for several moments before deciding that I didnít want to risk not being able to get back up. I back upstream around the head of the falls, and find a more reassuring route on the left bank. It takes all four limbs to lower myself down a steeply-banked log. The process would be very difficult if I were not in decent shape. This is the fun part of this hike, though, having a bit of a challenge, a bit of a scramble, and some route-finding requirements. I stop after descending the log and finish off my 1st quart of Gatorade. Two more quarts of water are in my CamelBack. I snap lots of photos, and keep my tripod handy as I move on downstream. I imagine that I grinned without thinking at the amazing tapestry of rock and flower all around me. Deep green pools appear regularly, tempting me to bust a backstroke and relieve the heat that soaks my skin. Near the river, I take to walking long stretches in the water since it both feels good and is easier than the willow jungles on the banks. Before I know it, I am at the Escalante, a cold, milky current that looks like it would be fun to raft. I look upstream, but cannot see Stevenís Arch.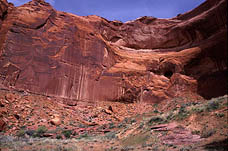 After a few moments of lingering in the current of Escalante, enjoying the complete solitude, I start back. From camp near Coyote Bridge it took 2h 10m to reach the river, stopping frequently for photos. On the walls near the confluence, I can see the familiar high-water mark of the Lake Powell. Now the lake is far down the Escalante, in fact it is at its lowest point in almost 40 years, revealing much that has been flooded since they filled Lake Powell. On the way back I take a sidetrail and hike uphill for a view of Stevens Arch. This trail also seems to lead to an alternative escape from the canyon. I stop and chat with two old men who describe it to me. I feel mildy cheated that anyone can take such an easy way in.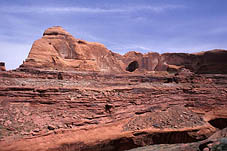 I take more photos on my way back. I pass a spring gushing from the rock of the canyon wall and fill my canteen. Walking back, I slog though the water almost constantly, letting it splash my legs and hands. I arrive in camp at 2:30, the trip back taking 2h 20 min, but including a side trip up to see Stevens Arch. Back in camp Andra is snoozing in the shaded, but hot, tent. Clearly, she is not well. The flies swarm around the tent. I make us PBJs for lunch, filter water and get in the tent. I read Ed Abbeyís Monkey Wrench Gang while Andra naps off her cold. The tent is hot, but the biting flies are worse. I entertain ideas of moving camp, but with Andra sick, decided that is not a good idea. We laze around camp, in tent and out Ďtil dinner at 6:45. The sky gets slightly cloudy. For dinner we again have burritos, polishing off the beans and tortillas. At dark I set up for a starry sky exposure and initiate it around 9PM with the moon still illuminating the far side of the canyon. Thus ends one of the most peaceful and enjoyable days of my life.