Monday April 11

I awake to welcome sunshine beating on the corner of the tent. 8AM. What a great time of day. Without peaking out of the tent flap, that little spot of sunshine on the tent fabric alerts you to the wonderful, beautiful morning awaiting you, and the possibility of a day that will live in your memory for years, suddenly popping back into your consciousness on some weary, bleary, snowy day in January while you're pinned to your computer doing meaningless drivel for a paycheck. That little spot of sunshine alerts you to the possibility of infinite pleasure awaiting, just outside that tent flap. I dress quickly, anxious to get out under the sky, and go outside into a clear, chilly and slightly-windy morning. The sky is a cool, deep blue. I read The Monkey Wrench Gang and silently will Hayduke towards even more clever and diabolical methods of disabling a DC-9 while Andra snoozes quietly in the tent. At 9, she awakens and we break camp. We polish off the quart of yogurt and granola, zip our packs and drive east, away from a curious cow that made its way closer to us during breakfast and by the time we left was only 20 feet away.

In 20 minutes we are at Big Hollow Wash, which currently presents an insurmountable barrier to 2WD vehicular traffic in the form of a deep and muddy crossing. We park near 3 other cars (all 2WD) and shoulder our overnight packs. Big Hollow Wash is wide, sandy and dry on this day. Probably that way on most days. The footprints of 2 humans are clearly visible in the soft sand. Pink sandstone lines the wash in sculpted walls 3 to 20 feet high. Shallow benches break the rock walls occasionally with a bed of blackbrush and bunchgrass. Some passages are narrow and winding, with wonderful vertical walls only 6 feet apart. In 1.5 hours, we reach Red Well Junction. I leave Andra and packs in the shade of a small side canyon to go obtain a permit at the trailhead, as instructed by the burly ranger at the Escalante visitor center, which I accomplish despite the register being almost a mile away. I pass opposite a group of 6 elderly day-hikers along the way. Back with Andra in the wash, regretting the delay, we continue downstream, snacking lightly on apple chips we dried at home. After 45 more minutes of hiking through increasingly-thick vegetation, we stop for a PBJ sandwich, and split a Clif bar. The dining venue is lush, with an abundance of cottonwood. In fact, the cottonwoods are so thick, neither side of the canyon is visible. On the north side of the canyon water has pooled and sits still and murky. Coyote willows line the watercourse. The creek, formerly dry, has become a good-sized run, 3 inches deep and 4 feet wide. We reapply sunscreen, enjoying that wonderful scent that is synonymous with fun. The sun shines down unimpeded on our walk in the park. Andra mentions her throat is sore, and hopes it is not a cold coming on.

Just after we start out again, we reach the junction with Coyote Gulch, where we will spend the next 4 days. The water increases in volume, fed by numerous side creeks and unseen springs. About 30 minutes after lunch, we reach a waterfall and take off our shoes to wade in the cool water and soft sand. To reach the lower part of the fall requires wading upstream in 3 inches of water through a short and narrow slot. We do it twice, then sit in the sun on the sand and listen to the rumble of turbulent water. Feet dry, boots on and back on the trail.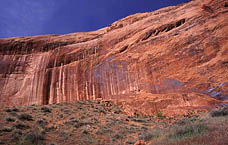 About an hour and a half later, we stop and pitch camp on an exposed and sunny ridge near the confluence of 2 major drainages, the one coming in from the south being unnamed. We fill our collapsable pail with water from Coyote to settle the silt, but immediately after that I find that the unnamed creek has very clear water relative to Coyote that requires no settling, so we filtered water directly from that creek. I hike around the area. We share a Clif bar and make dinner of burritos. Delicious! Somewhere along the hike today I have ripped a tear in the seat of my pants. Andra assists me in sewing up the rip with spare thread from the first aid kit. We wash up with almond castille soap, very refreshing, and take a short walk in the twilight of the canyon over barren sandstone. Darkness follows the lengthy canyon sunset, which is warm and still and quiet.