---
May 25, 1999; Tuesday Lost Canyon / Elephant Hill
---
The next morning we awoke at around 8:30,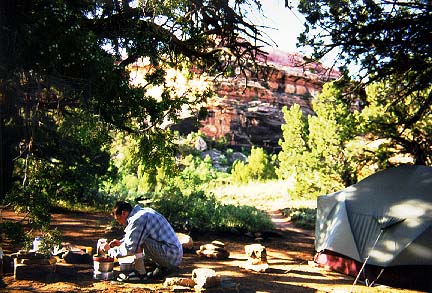 a comfortable nightís rest behind us. It was unusually chilly, even though the sun was hitting our campsite. I wore my jacket 'til well after 9 o'clock. Breakfast consisted of pancakes, the most luxurious breakfast of the trip to come. Pancakes topped with maple syrup are a nice way to start the dayís activities.
The clouds took on an ominous appearance quite early in the day, so we felt it best to expedite the trip back and get over Elephant Hill before any weather made the rocks too slippery to navigate. Almost as soon as we began to walk back, we hit swampland. One would have thought we were in southeast Asia rather than the "arid" desert. Reeds and grasses carpeted the canyon floor, along with wild roses and Indian Paintbrush. Equisetum, the oldest extant plant species, consisting of nothing more than a segmented tubular stem with a cone on top, grew here in abundance. The mosquitoes came out to feed. We rarely stopped or even slowed down to enjoy the scenery because of the marauding flesh eaters swarming all around. At one point we had to remove our packs and throw them across a wide stream, then jump over after them. No need to get wet. I gauged the streamís depth with my walking stick at about 5 feet.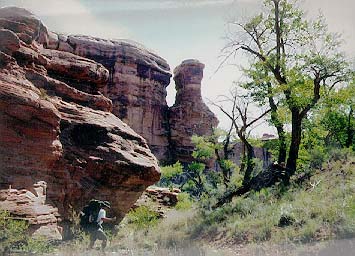 We trekked up the side of one canyon and right back down into another. Several times the passage appeared to be a dead end, opening itself up only as we got very close and found a whole new canyon opening off to the side. Around every canyon wall and fin lay a new and impressive sight of distant needles. One could not complain about the scenery.
Slowly, the trail wound out of the canyon maze and deposited us atop a barren expanse of slickrock limestone a thousand feet up. A ladder was required to scale the sheer rock face at one point. Climbing a seven-foot ladder, with a fifty-pound pack on and nothing between you and a 400-foot free fall but a fifteen-foot expanse of rock sloping down is definitely a tense moment.
We passed a family of backpackers from Delaware who seemed to be having a tough time; moving very slowly.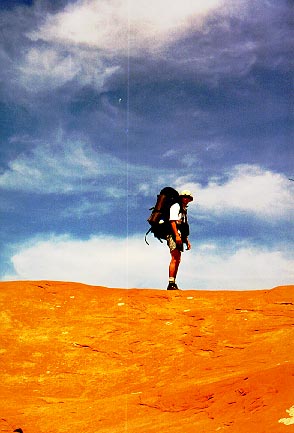 No matter, at least they were attempting it. No harm in taking it slow.As for us, we were in a hurry. The sky to the south looked ominous, and we had to make it over Elephant hill before rain. We scooted on back, stopping to chat with an Arizonian whose tent was destroyed in the previous nightís storm. Bad Karma, I guess.
Back at the Jeep, we hurriedly threw our packs in, clamped the bikes on the back and took off.
The drive over Elephant Hill was all they had warned us about. 4-wheel drive is a must, as well as a lot of power. Most of the way we had to walk first, rearranging rocks and planning the best route. I never knew cars could manage a route like that one. It would be difficult hiking it, but that Jeep made it, with me in front directing the path of tires most of the way. I didnít mind, it added to the excitement. I took a few action shots of Dave behind the wheel along the way. The bike rack took a few scrapes, but the car was not scraped. Nearer to Devilís Kitchen where the road was smooth, the route ran through a passage so tight that we had to hold the rear view mirrors in to prevent scraping.
We arrived at Devilís Kitchen after much anticipation. 4-wheeling makes every mile seem like two. Neither of us could recall which of the four Park-sanctioned campsites was allotted to us, so naturally we occupied the nicest one and hoped for the best. The site chosen
lay behind a massive wall of sandstone in a veritable Eden of flowers, grass and brilliant green Box Elder surrounded on all sides but one by rock faces 50 feet or more. A picnic table was positioned under an overhanging rock face, and a large sandy area lay in the middle. The entire space formed an oblong circular shape roughly 30x60 feet, all accessible by a small tunnel connecting it to the outside world. That is Devilís Kitchen #4.
The secluded atmosphere gave way to a lazy afternoon of journal writing, reading and sightseeing. During this time, we had two visitors to our secluded camp. The first was a park ranger, Eggers, the same one who had conversed with us on day 1. He was curious about our venture over Elephant Hill.

Happy to report no problem with that. Short visit. The second visitor was a mid-aged gent who had been basking in the sun smoking cigarettes (of something or other) all afternoon. He was a friendly guy with a full gray beard. We had passed him on the 4x4 "road" earlier. He was on a month-long visit of Utah from New York. By almost incalculable odds, he works for Lockheed Martin in New York, the very company and location Dave is going to work for in the fall. Mike Bengham was his name. He and Dave chatted about New York and I sat idly by. Amazing coincidence.
Feeling the need to DO something, we followed a network of immensely deep slot canyons, more like crevasses and fissures, near our camp. Some of the cracks were no wider than a couple of feet, and some had a roof made up of two rocks separated only by inches. The effect was cave-like. We ventured down various passageways, the route being chosen by where our bodies would most easily fit. By and by we came up a sloped crack that led to a very comfortable balcony which afforded views in almost every direction. We spent awhile up there, but felt obligated to keep the action tempo on high.
We decided to hop on the bikes and cruise around for awhile. We rode the route weíll take back to Squaw Flat later in the week, up to the Confluence Overlook split and back again, about four miles. The deep sand made the going very difficult in some places and the steep rocks equally difficult in others. Several crashes, nobody was hurt, only some minor re-adjustments of the bike seat necessary.
Back at camp, dinner of Ravioli was heated, consumed, and the dishes washed. The rain that had threatened earlier made no showing, and the evening sky was crystalline blue till bedtime. Dave opted for the cot out under the stars. I settled for the cozy bug/snake-free shelter afforded by the magenta nylon dome erected earlier.

---
Back to Camping
NEXT
---