---

Location: Lory State Park, NW of Fort Collins, Colorado
Access: From Fort Collins, drive north on Overland Trail, turn left on Bingham Hill Rd, then south on County Rd 23 and follow the signs into Lory State Park
Map: Area is covered by the USGS 1:24K quad Horsetooth Reservoir, but state park trails are not shown on my 1975 revision. Lory State Park offers a free brochure map that is of minimal navigation value: dotted lines represent the general trail direction, but specifics such as switchbacks or map scale are absent.
Dogs: Leash law in effect, I hear itís strict
Trail: Two routes: 1) 1.7 miles and 1200í elevation gain through a pleasant valley 2) 5 miles and 1200í elevation gain over a ridge or two and through drier uplands
Trailhead: NAD83 zone 13 485233e 4490414n Elev: 5642'
Fee: $6 gets your car in for the day
Webcam: CSU Foothills campus
Weather: Current and recent conditions NWS Forecast

---

May 20, 2006
I lived in Fort Collins 8 years, but never made it up to Arthurís Rock. I live in Cheyenne now, and so it took a bit of planning one fine weekend in mid-May for Andra and I to meet up with Christine and drive down for this particular hike that had been on my list for three springs. Something just always seemed to come up that prevented us from doing it. A bunch of poor excuses, Iím sure. Andraís neighbor from Fort Collins, Diana, noted years ago that the wildflower display along this trail in the springtime was quite nice, thus our reasoning that if we were to hike it, spring was the time.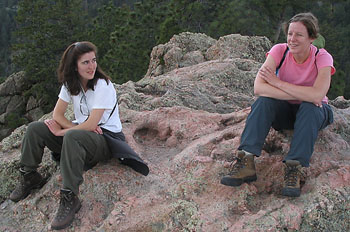 The drive down from Cheyenne went quickly with three of us in the car. The sky was mostly cloudy, but the air was moist and warm. We drove along familiar roads through Fort Collins, and up to Bellvue, and then onto unfamiliar roads to Lory State Park. Dutifully, we paid our entrance fee and drove on to the end of the gravel road, where lies the Arthurs Rock trailhead. Many, many cars were parked at the trailhead and banners reading VOC seemed to spring up everywhere. Turns out that a large contingent of Volunteers Outdoor Colorado (or something to that effect) were building a spur trail off the Arthurís Rock Trail, perhaps to link up directly with Horsetooth Rock to the south. Perhaps not. I didnít ask. The trail plunged into a deep gulch to the west that was filled with layer upon layer of green foliage. Seemingly very wet, a great diversity of blooming plants grew here. It was immediately obvious that we had come at a good time for a nice show from the plants, and I stopped to check out each one. Almost always, I lagged far behind Andra and Christine, who were able to enjoy the flowers at a more reasonable pace. The interesting thing about the hike was that since it gained elevation dramatically along the 1.7 miles, different flowers were at different stages of blooming along the way, so that no single species dominated the spotlight. In the lower areas, chokecherry, dandelion and ground sorrel were in their prime, while higher up, astragalus, geranium and blanket flower were more noticeable. The pasqueflowers had come and gone, leaving their weird spiny-head of seeds. Along the entire route, boulder raspberry shrubs were covered in white blossoms. For most of the way, the trail threaded in and out of ponderosa pine, and even when the sun peeked out, we were in the shade. Two exceptions: A meadow near the beginning with a short wooden bridge spanning a dry gulch presented a profusion of yellow pea in full bloom; A series of switchbacks up a south-facing slope was drenched in sun, and could be a hot hike for most of the summer months if one doesnít get an early start.


The trail crew was working just past the meadow, not far from the parking lot, so we soon left the hustle and bustle behind and saw very few people higher up. The trail is short, and it took little time to reach the summit by way of short, steep stretch lasting only 60 yards. Once out on the pink granite top of Arthurís Rock, the scenery becomes panoramic. Horsetooth Reservoir stretches out below, all its inlets clearly visible. Beyond that, Fort Collins, on this particular day being watered by spring showers. Prospect Rd runs straight east from the vantage point on top of the rock. We sat at the top and ate a snack and enjoyed the cool breeze and humid air until a series of lightening strikes only a few miles away prompted us to retreat back down.


The hike downhill naturally took less time, though we stopped and loitered in the fragrant spots more. The entire hike, logging in at around 3.4 miles, took around 2.5 hours. We followed up our hike with a trip to Ben & Jerryís in Old Town before heading back north to Cheyenne.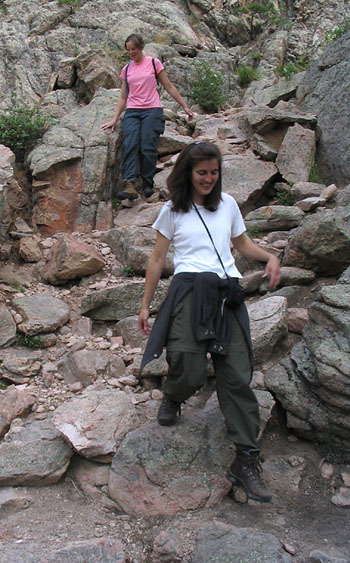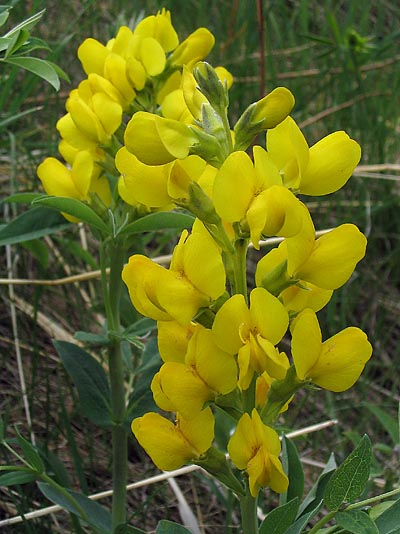 Yellow Pea (Thermopsis divaricarpa)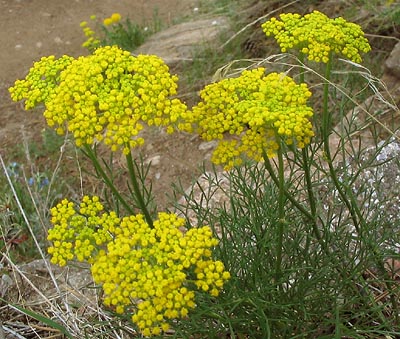 Whiskbroom Parsley (Harbouria trachypleura)

Fern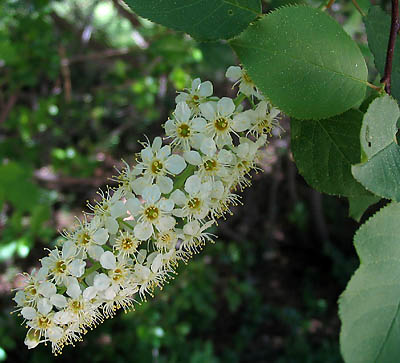 Chokecherry (Padus virginiana)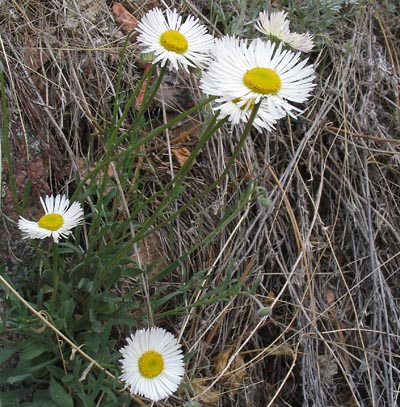 Fleabane (Erigeron)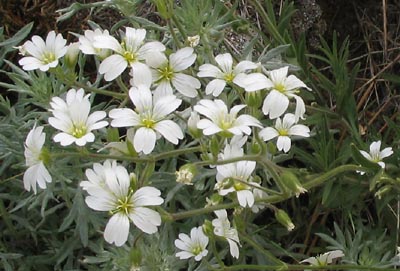 Mouse Ear Chickweed (Cerastium strictum)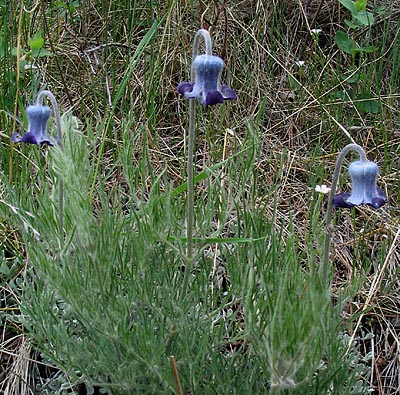 Sugarbowl Clematis (Clematis scottii)

Lupine (Lupinus argenteus)

Grassleaf Mat Daisy (Hirpicium aermerioides)

Groundsel (Senecio integerrimus)

Blanket Flower (Gaillardia aristata)

Larkspur (Delphinium)

Loco Weed (Oxytropis lambertii)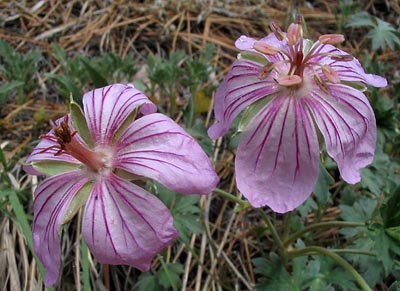 Wild Geranium (Geranium caespitosum)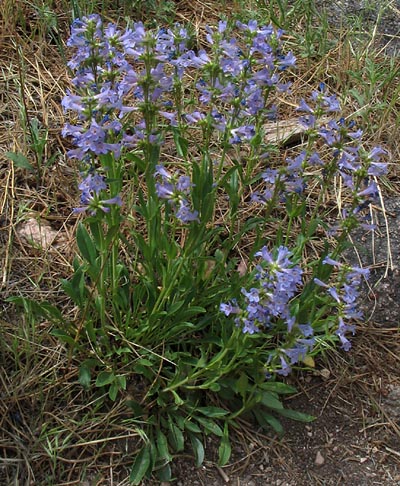 Low Penstemmon (Penstemmon virens)

Leafy Cinquefoil (Drymocallis fissa)

Wallflower (Erysimim capitatum)



Miner's Candle (Oreocarya virgata)
Yellow Salsify (Tragopogon dubious)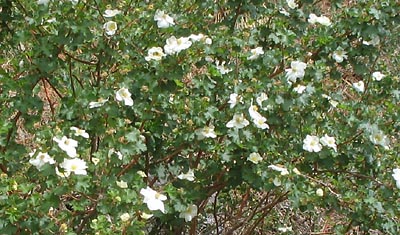 Boulder Raspberry (Oreobatus deliciosus)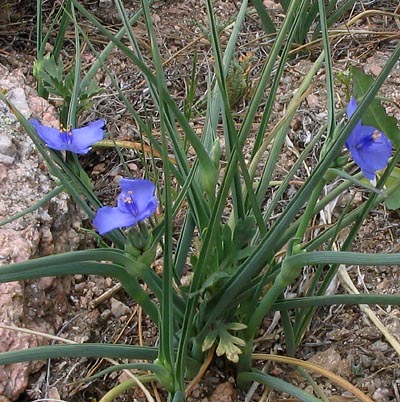 Prairie Spiderwort (Tradescantia occidentalis)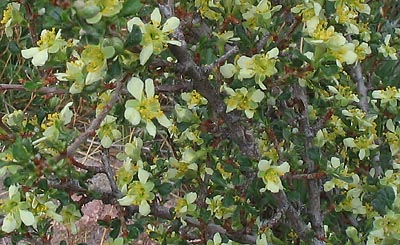 Blackbrush (Coleogyne ramosissima)